Manscaping- A man's hair removal for "groin-grooming"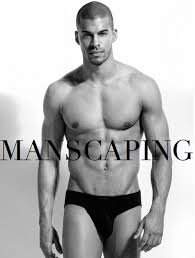 Manscaping is the modern term for a man to remove his unwanted body hair. It is for ALL men. The phrase started for Metrosexual men. Metrosexual men are men that are confident and care about their grooming needs. Manscaping has now revolved to grooming the nether region of a man. "Groin-grooming" no one likes hair in their mouth. Words from my current clients.
A well nice hairless body is a "confidence booster" for men. It allows them to feel sexy and they what to show off their body. A survey by Cosmopolitan states that 95% of men Manscape their body to some degree. It's not just for celebrities anymore. It's for any man that wants to be hairless, feel sexy and confident.
From male entertainers, body builders, swimmers, or the professional guy Manscaping is taking over. Some women like men "hairy" like a bear and some don't. More women are asking and hinting to their men to get "groin grooming".
We expect our clients, especially males to be very respectable and professional. Understand that we are professional estheticians who sugar unwanted hair and nothing MORE! Any inappropriate behavior will not be tolerated. The safety of our therapists is important. If at anytime the therapist feels unsafe or inapporiate behavior happens the service will be stopped immediately and you will have to pay full price for your service. Legal action will be taken out if needed. Erections and secretions are not tolerated.